Co-Chair, Design, Technology and Management (DTM)
University of California, Irvine
M.F.A.
University of Wyoming
B.F.A.
Central Wyoming College
A.A.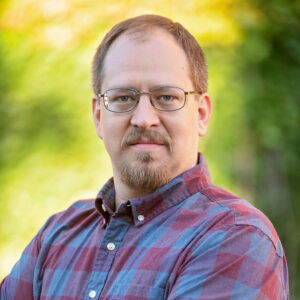 I wrote and performed in my third-grade class play The Money Tree, and I guess that is what got the ball rolling. Rumpelstiltskin in 6th grade, The Fall of the House of Usher in 8th grade, The Diviners in 11th grade. As an introvert, having the ability to create and escape into characters was a joy. In High School I was able to travel with my class and perform as a part of the Edinburgh Fringe Festival, and from that point on you could say that I was hooked. I spent two years attending Central Wyoming College, a small rural school (with about 1000 students and an NCAA Rodeo team) where I learned to appreciate all of the theatrical disciplines, and I benefitted from personalized learning.
Our department and class were small enough that each of our professors was able to really focus on the students as individuals, and that left a major impression on me. I followed this up by three amazing years at the University of Wyoming developing my love for design, and ultimately went on to the University of California to receive my MFA in Lighting Design. I decided to teach at Bridgewater State University, because it took me back to my roots…a community-based department big enough to produce quality work, yet small enough to allow me the ability to devote individualized attention to each of my students.
Being a part of the KCACTF family has enriched my life even more, by allowing me to see the stunning works created all throughout our wonderful region, and by helping young theatre makers gain the confidence and the skills needed to make it to the next level of their journey.
I recognize the privilege I have, and I do my very best to focus it to help others. I am a nerd, I am an ally, I empower, and I believe in you.
Bridgewater State University