Co-Chair, Design, Technology and Management (DTM)
UNCG
M.F.A.; Theatre Design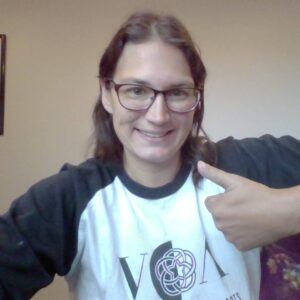 Having grown up as a theatre kid, I embraced theatre from a young age. I have fond memories of testing my braveness on the twisting stairs up to the grid, going a little higher every year till I made to the top to discover the true view of a groundplan. I remember the heavy sent of scenery paint, the echo in the halls down to the scene shop, and the dark of the booth.
Having sewing in my genetics, I spent a very hot Virginia summer playing with an old 1970's sewing machine and through sewing daily, I proudly created a blanket and bag with the most garish fabric choices you have ever seen. Along with my many days spent in a catwalk, booth or with tools, I found theatre a great fit for my passions and skills. I spent a long time trying to be a performer, only to finally have all hopes dashed in college with fully failing an audition for my personal fav Shakespeare, As You Like It, when the director asked me after my audition, that while I was very funny, if I would run the light board for the show. That is when I changed to 100% a technician and designer and haven't looked back.
Theatre is craft. Use your craft everyday and suddenly you will find that you have created yourself a blanket.
SUNY Plattsburgh